---
---
Organised conferences

Infinite Dimensional Geometry, Non Commutative Geometry, Operator Algebras and Fundamental Interactions
First Carribean Spring School of Mathematics and Theoretical Physics. Saint-François, Guadeloupe (31 mai - 13 juin 1993)
---
Quantum symmetries in theoretical physics and mathematics
Simetrías cuánticas en física teórica y en matemática
Symétries quantiques en physique théorique et en mathématiques
BARILOCHE 2000
: A CIMPA-UNSA-UNESCO-ARGENTINA SCHOOL S.C. de Bariloche, Patagonia, Argentina (10 - 22 janvier 2000)
Available lectures (
download
) : N. Andruskiewitsch, M. Dubois-Violette, D. Evans, A. Ocneanu, O. Ogievetsky, J.B. Zuber.
Available poster
:
Classification
of SL(2,C) and SL(3,C) quantum subgroups
by
A. Ocneanu
, poster presented at the Bariloche school (January 2000), in relation with the classification of SU(3) lattice integrable models (P. Di Francesco -
J.B. Zuber
).
Lecturers (photos)
N. Andruskiewitsch, M. Dubois-Violette, D. Evans, A. Ocneanu, O. Ogievetsky, N. Reshetikhin, M. Rosso, A. Varchenko, S.L. Woronowicz, J.B. Zuber.
---
---
---
---
Warning : The following bookmarks are often rather old...
Mathematics & Theoretical Physics :
bookmarks

Computers The last link is a memo explaining how to send an X11 window from a (very old) Ivory Lisp Machine running Genera to a (not so new) Apple G5 running OSX

Photos
---
Links
PageWebPons CPT CIRM CERN-TH


Marseille

: hotels, restaurants, history, things to do (from Guide du Routard, access restricted to specific machines within the CPT...)
---
What about diving (zoom!) into a fractal tiling of order 7 ?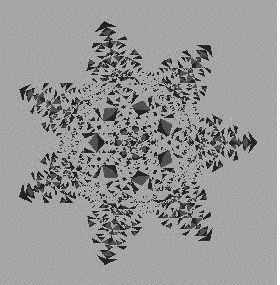 ---
---
---
---
---
---
To every Dynkin diagram G and to every positive integer k (level), one associates a fusion category that can be described either in terms of integrable representations of affine Lie algebras, or in terms of a particular class of representations of quantum groups at roots of unity. Fusion by fundamental integrable representations can be described by graphs called (fundamental) "fusion graphs". These fusion categories somehow generalize, at the quantum level, the theory of representations of Lie groups and Lie algebras, and the process of "fusion" replaces the usual notion of tensor product of representations. The web pages that are given (here) show fusion graphs of type (G,k) and describe some of their properties, for all types of Dynkin diagrams (of small rank), and for various values of the level.
Fusion graphs associated with the other irreducible integrable representations (not necessarily fundamental) can also be drawn, see the example below.
Classically, every finite subgroup of a Lie group possesses its own theory of representations, and the space obtained by considering sum of irreducible representations is a module over the representation ring associated with the chosen Lie group. Something similar exists in the quantum framework: for every fusion category of type (G,k) one can consider "module-categories" (not to be confused with modular categories) on which the previous one, which is monoidal, acts. Action of (G,k) on a chosen module can itself be described by a graph. See (here) the lectures given at the school of Bariloche 2000, and in particular the contribution of A. Ocneanu describing the classification of quantum modules and quantum subgroups of G=SU(2), SU(3), and SU(4). Our web pages (there) summarize these classifications and give other examples for other choices of G.
In physics, one knows how to associate particular quantum field theories (conformal field theories of type WZW) to fusion categories defined by the couple (G,k) where G is a Dynkin diagram (describing a Lie group) and k is a non negative integer called the level. Another possibility is to associate a theory to the fusion category defined by the quantum double of a finite group, or more generally to a pair (H,w ) where w is a U1 valued 3-cocycle on H. Even more generally one can consider orbifolds models defined by a Lie group, some level, and a finite subgroup.
Associated module-categories may be called "quantum subgroups" or "quantum modules". They can be described by fusion graphs. They possess their own interpretation in the framework of boundary conformal field theories. In particular, one knows, for every one of them, how to define and calculate a modular invariant quantity that is interpreted as a partition function.
This file contains modular data for Drinfeld doubles of finite groups, also called (untwisted) quantum doubles of finite groups.
In particular it contains modular data for all exceptional finite subgroups of SU2, SU3, and for a few members belonging to their infinite series of sugbroups.
---
| | |
| --- | --- |
| Centre de Physique Théorique | Centre International de Rencontres Mathématiques |
| | |
| Clef de l'univers accrochée à la lune | |
| | |
---
<! -- Code ancien pour compteur . A revoir. Le fichier est peut etre installe dans un endroit ou l execution d un cgi-bin est impossible ? --> <! -- --> <! -- This page has been accessed
<! -- times since November 8th , 2002, 0:00 pm -->